Yotsuba 「Hokkaido Tokachi 100」 Camembert & Blue Cheese for Adult 90g
Enjoy the intricate and umami taste from mellow camembert
and blue cheese distinct richness and aroma.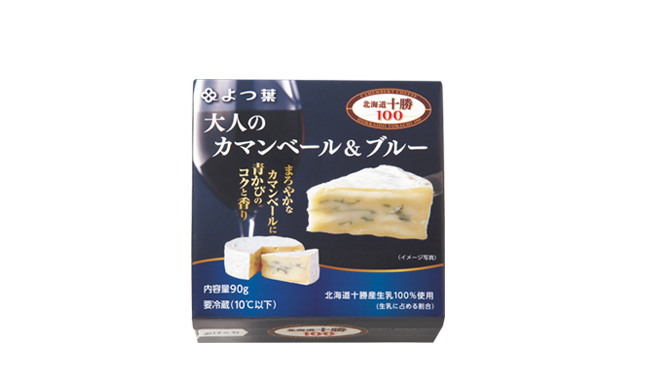 Using 100% premium quality raw milk from Hokkaido.
The desirable complex taste of mellow camembert with the distinct rich in aroma
and umami of blue mold is a perfect match for wine.
Rich milk flavour counteracted the sharp, almost metallic taste of blue mold thus is
highly recommend for those who are new to blue cheese.
About the product
Weight

90g
Category

Natural cheese
Ingredients

Raw milk (from Tokachi, Hokkaido), Salt
Best before

120 days (from Production Date)
Storage Condition

Keep refrigerated (below 10℃)
Nutritional Information
Per 90g
Energy

282kcal
Protein

18.5g
Fat

22.7g
Carbohydrate

1.0g
Salt equivalent

1.05g
Calcium

429mg