Yotsuba 「Hokkaido Tokachi 100」Cheese Snack – Cheddar 30g
Our Cheddar cheese is diced to just the right size to eat. Great for appetizer paring with wine.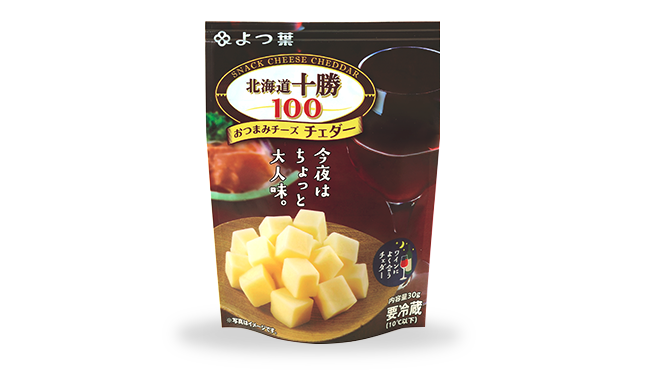 「Hokkaido Tokachi 100」 series is made from 100% dairy products that produced in Tokachi region , Hokkaido.
Diced to 12mm cubes, the size is perfect to pop in your mouth.
Slightly acidic taste of Cheddar cheese pairs wine very well.
Just open the package and it's ready to eat.
Cellulose (anti-binding agent) is never used so this is a great choice if you are worried about food additives.


About the product
Weight

30g
Category

Natural cheese
Ingredients

Natural cheese (Raw milk, Salt)
Best before

120 days (from Production Date)
Storage Condition

Keep refrigerated (below 10℃)
Nutritional Information
Per package (30g)
Energy

123kcal
Protein

7.6g
Fat

10.1g
Carbohydrate

0.4g
Sodium

200mg
(Salt equivalent

0.5g)
Calcium

230mg