Yotsuba 「Hokkaido Tokachi」 Camembert & Blue Cheese for Adult 90g​
Mellow camembert with richness and aroma of blue mold.​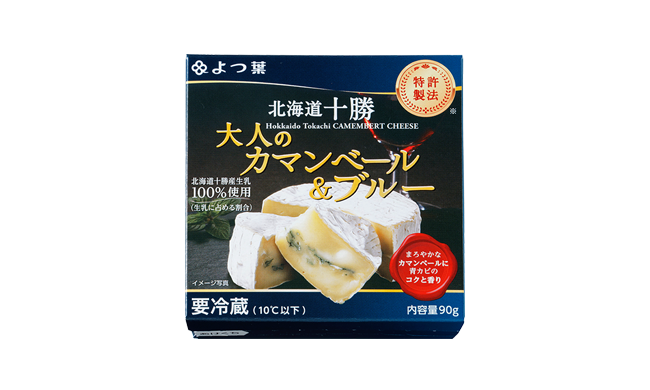 Dairy ingredients, raw milk and cheese, used in 「Hokkaido Tokachi」series are 100% produced in Tokachi region, Hokkaido.​
The complex taste of mellow camembert with unique richness, aroma and umami of blue mold goes well with wine.​
Rich milk flavour counteracted the sharp, almost metallic taste of blue mold thus is highly recommend for those who are new to blue cheese.​
About the product
Weight

90g
Category

Natural cheese
Ingredients

Raw milk (from Hokkaido), Salt​
Best before

120 days (from Production Date)
Storage Condition

Keep refrigerated (below 10℃)
Nutritional Information
Per 90g
Energy

282kcal
Protein

18.5g
Fat

22.7g
Carbohydrate

1.0g
Salt equivalent

1.05g
Calcium

429mg