Yotsuba Hokkaido Fermented Butter 125g​
Made using traditional methods after lactic fermentation of cream,
this butter is smooth and palatable, with a refreshing aftertaste.​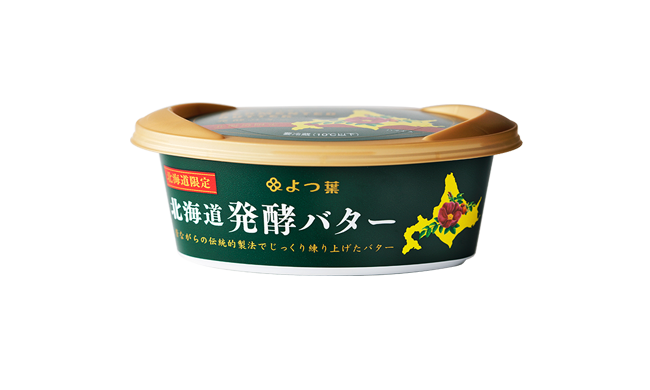 Hokkaido-produced cream is lacto-fermented before being produced using traditional churning methods.​
The churning process takes time and kneads the butter slowly in small batches, resulting in a butter that is smooth and pleasant to the palate.​
In addition to the richness of butter and the gentle flavour of milk, it has a refreshing, yoghurt likes aftertaste characteristic of fermented butter, that able to further enhances the taste of breads and cuisines.​
It comes in a cup, making it easy to use straight at the table and easy to put in and out of the fridge.​
※ This product is not whipped butter.​
About the product
Weight

125g
Category

Butter
Ingredients

Raw milk (produced in Hokkaido), Salt
Best before

180 days (from Production Date)
Storage Condition

Keep refrigerated (below 10℃)
Nutritional Information
Per 100g
Energy

741kcal
Protein

0.9g
Fat

81.6g
Carbohydrate

0.8g
Salt equivalent

1.04g