Yotsuba Strawberry Flavoured Milk Beverage 200ml
Milk beverage made from 100% fresh milk and dairy ingredient produced in Hokkaido.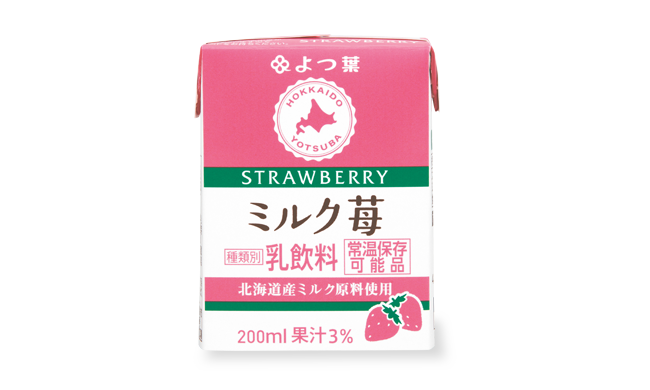 A perfect blend of strawberry sweet sour aroma with mellow milk taste that contains real strawberry juice (3%) and free from food coloring.
This milk beverage has long shelf life and can be stored at room temperature.
About the product
Volume

200ml
Category

Cow Milk(Shelf Stable Product)
Ingredients

Milk, Sugar,Strawberry juice, Maltitol, Dairy products/Flavors
Best before

90 days (from Production Date)
Storage condition

(Do not Exceed) Room Temperature
Nutritional Infomation
Serving size 1cup (200ml)
Energy

127kcal
Protein

3.8g
Fat

4.2g
Carbohydrate

18.6g
Sodium

0.2g
Calcium

129mg